.: Latest Dev Log entry :.
.: Latest screen shot :.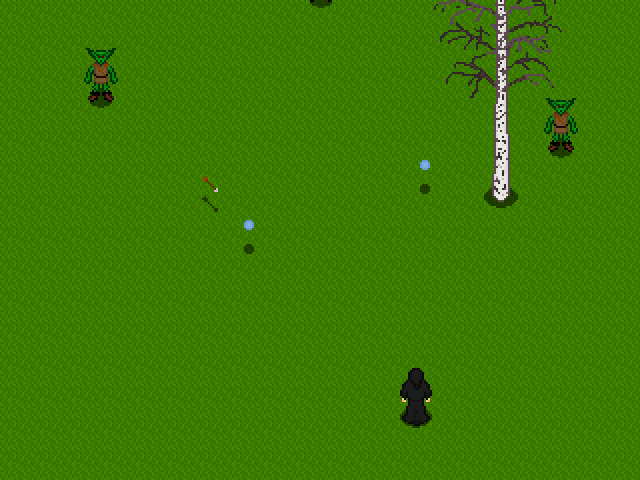 [
View all screenshots
]
Bug fixing
21:43 - 11. February 2013 by: Jonge
---
I was looking at the screenshots from yesterday, and thought that there had to be to much height on the bullets(when you look at the shadows). Turned out to be 10px to high.

Also fixed a bug that would not let you kill the goblin archers, the HP was zero, but the code for the Goblin didn't care =)

Changed the calculation of the direction of the arrow sprite, it was a little bit off.
Making progress.
21:45 - 10. February 2013 by: Jonge
---
I'm still making progress, but I'm not to confident in finishing on time. I don't feel to bad about maybe not finishing the game for the compo, because I will keep working on this anyway.

Some progress from last time:
- Fixed an annoying bug in the collision detection(some thing thats been there awhile).
- Added a new enemy, a Goblin Archer, and also added arrows for him to fire. Cheated a bit by taking the normal Goblin and changing some colors, but that will have to do until I get more time.
- Added a tree sprite. Is supposed to look like a birch tree, but needs more work.
- Exchanged the flying circles with actual sprites.

Added two new screenshots.
Time is flying
21:47 - 28. January 2013 by: Jonge
---
The time is flying by, I've been sick and my daughter has been sick(and now shes sick again). So real life is keeping me busy.

I managed to sit down tonight and draw and code a bit. Made the first real tile, and added some shadows to the objects. I also had to do some bug hunting in my old code to get things working.

I feel the movement in the game is pretty good and the engine is running nice and smooth.
Eat this circle goblin!
22:30 - 19. January 2013 by: Jonge
---
Finally done with adding collision detection and what bullets and objects should do when they collide. It was a lot more work then I expected, but now its there. Next thing will be to make the Goblins attack(melee type), and also add a goblin enemy with a bow. Then I can start to layout Level 1.

PS. Maybe a suicide Bomb Goblin would be fun to =)


Flying circles
9:40 - 18. January 2013 by: Jonge
---
I finally added bullets to the engine last night. The code is missing a lot of features yet, but at least you can fire some circles around.

Before that I had to tweak the button handling to make it more responsive. I've also tried to sync the buttons so that even though you dont push them at the exact same time, both bullets fire equally.
Let the carnage begin!
9:57 - 14. January 2013 by: Jonge
---
Well soon at least =) I have updated the player sprite with arm animation. The left arm now moves when you fire left, both arms move when you fire strait and the right arm moves when you fire to the right.

I currently have a three button control, with one button for left, center and right. This lets you fire in two directions at the same time. Gun Smoke used two buttons, where you could fire strait only when pressing both buttons. I might change the controls, but I will have to see how this works.

Next step will be some magic bullets firing from the players hands.
GFX Done!
22:23 - 7. January 2013 by: Jonge
---
Well at least the first version of the first enemy.. =)

I have been pixeling, reading tutorials, re pixeled, animating and now finally after about a week of work, I have one finished sprite.. =)

I think the next sprites will be easier now that I know how I want things, and what I need to use to draw them. It has been a lot of testing and failing, but I now feel comfortable with my setup.

Next step will be to start on some simple AI and then get some magic bullets flying =)
Drawing GFX..
9:07 - 2. January 2013 by: Jonge
---
Ugh, had forgot how hard it is to make some decent sprites. Started drawing a enemy for the first level yesterday, but it didn't turn out to well..

Will have to sit down again later to day and give it another try. I think I'll head over to the Pixelation Forum to see if there is any good tutorials, because its a long time since my last drawing attempt's.
Collision detection complete
22:23 - 30. December 2012 by: Jonge
---
I have now just finished adding and debugging collision detection in the engine. Got caught up in some bugs and how to handle them best, but I'm now satisfied with how it works.

One small thing I want to add, is to make the main character automatically try to go around a corner if he collides and theres open space on one of the sides. This will have to come to morrow.

Added a new screenshot.
Still moving along..
23:11 - 26. December 2012 by: Jonge
---
Managed to add a few more LOC to night. Should probably gone to bed instead, but I'll have to deal with that problem to morrow morning =).

Have now coded basic walk animation, with animation speed depending on the walk speed. Have also improved pieces of the engine code and I'm pretty happy with how the code "looks" now. This also makes the engine easier to maintain.
Moving along..
15:52 - 26. December 2012 by: Jonge
---
Finally the engine is starting to do something =)
Currently working on the movement of the main character, which is important to get right.

I also want to have different 'friction' on different tiles, so I can have things like ice tiles in winter.

Hoping to add a few more lines of code tonight.